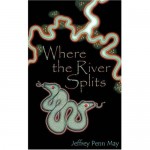 Where the River Splits
Susan and her husband David capsize in white water, struggle to opposite sides of a raging river, and lead vastly different lives until finally converging again, one prevailing with strength and compassion, the other gaining redemption.
"The journey to the end of the novel is never boring. The scenes set in rural Wyoming feature the geography as much as the characters. Locales in Canada and Mexico also figure into the plot. Still, the story keeps coming back to St. Louis, which should add to its appeal for local readers." – Steve Weinberg, St. Louis Post-Dispatch
"A solidly written and well-structured thriller. That's no small achievement." – John Dalton,  Heaven Lake: A Novel Winner of the Barnes & Noble Discover Award
"As an experienced broadcast producer, I think this book would make an excellent movie script!" — Dan Dillion, TV producer,  So, Where'd You Go To High School? The Baby Boomer Edition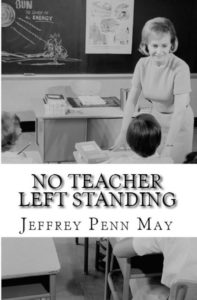 No Teacher Left Standing

You can't understand teachers until you are one. This novel puts you in the heels of an elementary schoolteacher.
"True to life story of one year in an elementary teacher's life … Believable characters, all too true situations… You come away with a better understanding of both the pressures faced and the tenacity required in a teaching career today. " — Terry Crawford Palardy

Cynthia and the Blue Cat's Last Meow
Fishing Magical Realism. Reminiscent of Richard Brautigan, "Cynthia" is a story of red berries and howling caverns, fury and fishing, moonlight and candlelight, where we dream of blue cats and idyllic sensuality.
"I loved your book—thank you! It is a 'page burner'!"
– Mary Lu Sanders-Zinser, Intellectual law property, retired.
"Beautifully written… extraordinarily good literary artist." – Eric Chaet
"What a nice, mystical little story!"- Christine Frank, editor and author
"I could not put it down. I gobbled it up…. This story is very good." – Robin Theiss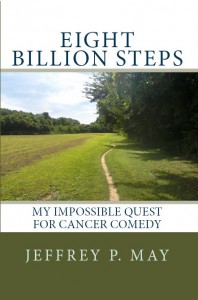 Eight Billion Steps: My Impossible Quest For Cancer Comedy
"It's perhaps a brave decision to write about all of this, and the reader can feel a bit like a fly on the wall sometimes. But what shines through Jeff's writing is his determination to beat the cancer, to resolve his other problems and to get on with his life."
"I love how he champions his wife and friends for their part in his struggle."
Memberships and affiliations
St. Louis Writers Guild
St. Louis Publishers Association
Missouri Writers Guild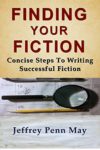 Books About Writing and Other Resources
Finding Your Fiction: Concise Steps to Writing Successful Fiction
On Writing: 10th Anniversary Edition: A Memoir of the Craft

On Writing Well, 30th Anniversary Edition: The Classic Guide to Writing Nonfiction

Bird by Bird: Some Instructions on Writing and Life

FirstWriter — I used this to find a publisher for Where the River Splits

Share on Facebook